By David G.July 25, 2017
---
Brent M. Rogers is the author of Unpopular Sovereignty: The Mormons and the Federal Management of Early Utah Territory (Lincoln: University of Nebraska Press, 2017). He holds a Ph.D in American History from the University of Nebraska-Lincoln. He is currently an associate managing historian for The Joseph Smith Papers and he has co-edited four volumes in the series. Brent agreed to participate in our semi-regular series, Scholarly Inquiry, by answering the following questions.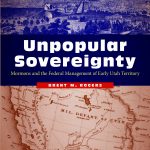 What led you to write Unpopular Sovereignty:  Mormons and the Federal Management of Early Utah Territory?
This was a fun question to think about. The seed was planted as I read a couple of influential books in undergraduate courses and early in my graduate career that had me thinking about Mormons and Utah in the antebellum era (Sarah Gordon's The Mormon Question and Will Bagley's Blood of the Prophets). But, the book project, if I were to pinpoint its true beginning, emerged out of a research seminar I took on war and expansion in nineteenth-century America. Because there seemed to be a lack of western facing history in the course, I decided to examine the role of the western territories in antebellum political discourse. As I dug into the newspaper and congressional sources, substantive discussion about Utah emerged more prominent than I originally anticipated, so I keyed in on that discussion. Secondary sources hadn't considered the territory west of Kansas as important, but the primary sources said otherwise. After I wrote and presented that research paper, and after subsequent conversations I convinced my dissertation committee that it was worthwhile to pursue a dissertation that placed Utah squarely in the narrative of antebellum political discourse within the context of sovereignty, territory, and power. In the few years following the completion of that dissertation I revised and enhanced that work to produce Unpopular Sovereignty.