J. Spencer Fluhman is assistant professor of History at Brigham Young University. He graduated summa cum laude from BYU with a degree in Near Eastern Studies (1998) and attended graduate school at the University of Wisconsin-Madison, where he was awarded a MA (2000) and PhD (2006) in History. He is the author of the recently-released A Peculiar People: Anti-Mormonism and the Making of Religion in Nineteenth-Century America (University of North Carolina Press, 2012), and the editor (with Andrew H. Hedges and Alonzo L. Gaskill) of  The Doctrine & Covenants: Revelations in Context (Religious Studies Center, BYU, and Deseret Book, 2008). He also guest edited (with Steven Harper and Jed Woodworth) the , ?Mormonism in Cultural Context.? Dr. Fluhman is also a dynamic lecturer and popular teacher at BYU. He personally mentored several of the bloggers at Juvenile Instructor, and remains a close friend and trusted mentor to the current generation of Mormon graduate students. Below he answers your questions about his recent book, broader researcher, and Mormon history more generally.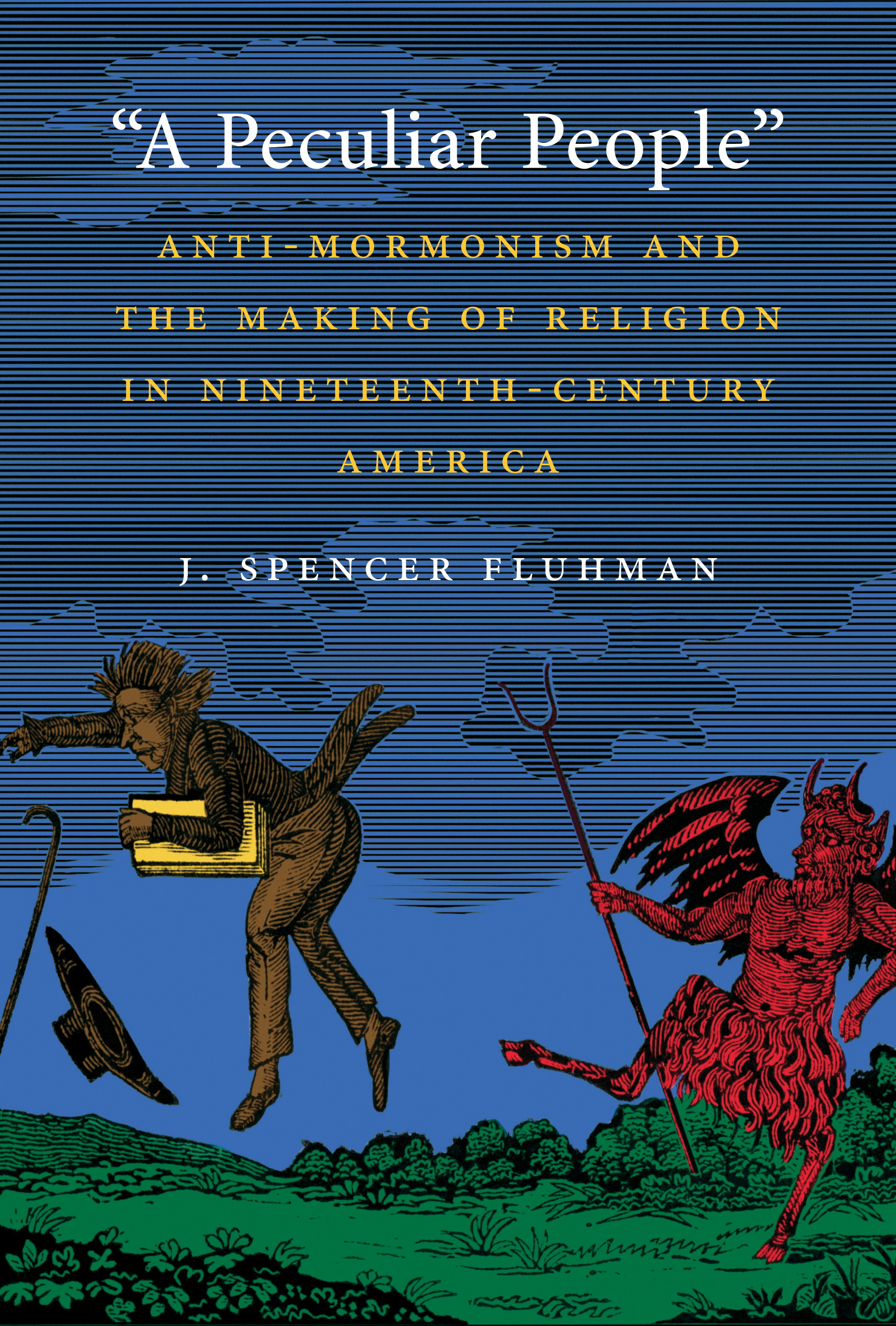 1. What are the main changes you made to transform this from an excellent dissertation to an excellent book from UNC?
Nearly one hundred manuscript pages were cut from the dissertation and two new chapters were added to take the tale to the end of the nineteenth century. It was a very painful slashing, of course, and a grueling expansion, but it ended up a better, more efficiently argued book. Most dissertations need significant reshaping, but my dissertation and book are radically different, both in terms of content and argument.
2. How do you place your book within the recent explosion of anti-Mormon historiography, including recent books by Megan Sanborn Jones and Patrick Mason? And how does this recent historiographical shift build upon and move away from earlier generations, especially Terryl Givens?s Viper on the Hearth?
I tried to offer an argument that treats anti-Mormonism in the 19th century comprehensively, one that helps stitch together all the fine work that preceded mine. I thus see my work as a compliment to these great authors. Terryl's, Patrick's, Megan's, and mine all share the perspective, as Patrick put it memorably in his book, of using Mormons as objects rather than subjects. I'd add Sally Gordon to the list, too, as one who used anti-Mormonism to open up important vistas on U.S. history. I set out not to understand Mormonism better, but rather to understand what reactions to Mormonism tell us about American culture. I was so focused on that broader story, in fact, that one press reader worried that Mormon voices were mostly missing, which in turn helped me sharpen an argument about the nature of power in 19th century America.
3. How does 19th century anti-Mormonism compare and contrast with 19th century anti-Catholicism? How did the two play off each other?
I found that they developed in tandem to a considerable degree. The "imposture" material I work through in chapter one was an expansion of an already vibrant anti-clerical attack line, with a strong anti-Catholic edge in Protestant polemical literature. Almost all across the board, anti-Mormon positions had analogues in anti-Catholic writing: discourse about "magic," worries over ecclesiastical tyranny, concerns about religious power and sexual exploitation, etc. I mostly just note the parallels in the book–it falls to someone else to do a rigorously comparative study.
4. Conversely, what relationship, if any, was there between ongoing 19th century criticisms of charismatic, ?enthusiastic? religion and anti-Mormonism? Was anti-Mormonism part of this broader critique, or did Mormonism represent something categorically different? 
See chapter two, which argues that Mormonism was an important "site" for this broader contest over the authentication of religious experience.
5. How influential were Mormon dissenters/apostates in the proliferation of anti-Mormon sentiment in the 19th century (pre-Frank Cannon)?
Quite influential, I think. These types provided the "eye witness" authority, the grist for the mills, in many cases. Some dissident Mormons theorized about their experiences, but often their visceral accounts of LDS misbehavior became the building blocks of more creative, reflective, or wide ranging critiques, and at the same time gave them their emotional punch. And most importantly, they provided the evidentiary "proof" for anti-Mormon anxieties.
6. How does anti-Mormonism of the 19th century compare with anti-Mormonism of the 20th and 21st centuries? Were the creeds use as a criteria for excluding Mormonism, or was some other standard applied? Was the term ?cult? used yet, or does the category and stigma of the term arise in the 20th century? And what do today?s manifestations of anti-Mormonism tell us about modern understandings of religion?
I've not studied later anti-Mormonism systematically, so I can only reflect in a kind of preliminary way at this point. In some ways, anti-Mormonism seems to recede into a kind of sectarian mode after the 19-teens, it seems to me. It seems less a front-page, national, affair. In other ways, though, Mormonism continued to offer Americans a foil for forming notions of religion, the state, and a host of cultural issues. For instance, whereas Mormonism had represented a threat of unrestrained sexuality in the 19th century, later representations offer a Mormon threat related to sexual repression. So, the precise nature of the threat inverted but the symbolic significance or function of Mormonism remained the same in some ways. I think we're just beginning to piece together the 20th century history of Mormonism. I trust that Crissy Hutchison-Jones and J.B. Haws will move us a good ways towards a better picture of these matters.
7. How did Mormons respond to anti-Mormon critiques? What role did women play in responding to those critiques? In what ways, if any, was Mormonism's development (liturgy, theology, practice, missionary work) catalyzed by its response to and reaction against anti-Mormonism? 
As noted above, I spent comparatively little time with these questions, amazingly enough. This is an important story, but one that I only hint at here and there. It deserves much more focused attention from someone else. As I explain in the introduction, my most pressing questions kept me mostly on the anti-Mormon side. [Insert ironic comment here.]
8. How has switching to BYU?s history department changed (if at all) your approach to teaching Mormonism in the classroom? How do you think your students? expectations and engagement have changed upon moving to the history department?
The switch has offered, first and foremost, a three-credit framework for the classroom experience rather than two. I found the latter to be utterly constraining and have loved the "breathing room," though I still can't seem to finish lectures. In my history elective courses, I've mostly opted for a seminar style that lets students work through difficult texts and questions as a community. I've found it to be an extremely rewarding pedagogical opportunity. With fewer students and fewer classes, I can assign more writing and give better feedback, too. Helping students be better writers is personally gratifying, in part because I felt woefully behind as a new graduate student. I work hard to create an environment where rigorous engagement and open exchange are expectations. Students have responded very well, I think.
9. Finally, what current and/or future projects are you working on now?
This semester, I've started work on an academic biography of James E. Talmage. I look forward to doing a blog Q&A for that book in 2022.